Anxiety Toolkit - we have created this e-book for you to refer to.  It's full of advice, strategies and support available both in school as well as external website links and support groups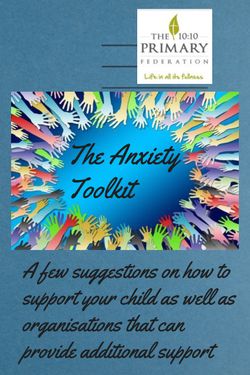 Pooky Knightsmith You Tube video - 5 Simple Strategies for Managing Anxiety (8:19 minutes)
https://www.youtube.com/watch?v=Ip_LCrZRINE
*************************************************************************
Parent Support Webinars 
Helping Parents and Carers to Support Children's Emotional Wellbeing in Times of Uncertainty
This is a recorded webinar
The aims of this session are:
To provide you with a safe space to pause and reflect on your own emotional needs and the needs of your child.
Explore the possible impact that the pandemic has had on your family.
Gain an understanding on how to protect mental health and wellbeing in challenging times.
Take away top tips for helping your child thrive through resilience.
Start to build your own family wellbeing toolkit
https://www.theeducationpeople.org/our-expertise/mental-health-wellbeing...
****************************************************************************
Tunbridge Wells Children's Centre Easter Newsletter - please click the link below for For FREE advice, guidance and information on a range of topics to support you, your child and your family,